CREATIVE DIRECTION • COMMERCIAL PRODUCTION • PHOTOGRAPHY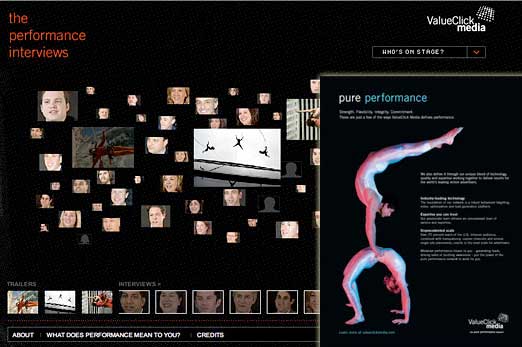 Amy Seidman creative directed ValueClick Media's entry into video working with marketing and creative to achieve a compelling solution. The collective result was a transmedia platform with thought leadership interviews using the concept of performance to position ValueClick Media as an industry leader.
Her work includes creative directing the content and programming with suggestions and integration with the art director and technology team's products. This included producing and directing multiple short segments such as this trailer, branded motion graphics, as well as pre and post roll. Supporting the interview production, Creative Entity provided post production services for all 50+ video interviews.
The print side involved a full studio photo shoot for the campaign's print collateral. Acrobatic dancers were used to demonstrate states of performance as envisioned by the art director Kristen Todoroff.
Film of the acrobatic dancers are of Project Bandaloop by an amazing troupe who specialize in vertical dance. Their photography and art form was selected as a solution to the desire to have either dance, sport or extreme nature as the theme of the Performance Interview Series, and their work offered all in one visual feast. Married to the music by Treavor Walton of Dessert Dwellers, the work achieves a stimulating view of top level internet marketing professionals.
PHOTOGRAPHY
The photo shoot for The Performance Video Campaign featured Amy Seidman's photography of acrobatic dancers based on art director Kristen Todoroff's vision to demonstrate different states of performance. Click the thumbnails below to open a photo presentation of the advertising collateral created as part of the campaign.